Remember to add FUN into your spiritual practice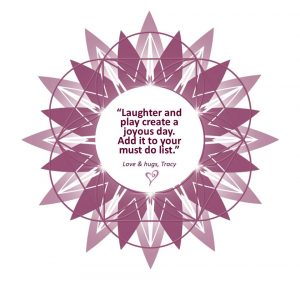 Lets be honest now. How many of you create a To Do List each day or week?
Most of us schedule things into our lives, but forget one very important aspect, fun and laughter. I'm guilty of this myself. We get bogged down with responsibilities, seemingly "should" do tasks or feeling guilty for not doing what is "expected", that we forget the essence of living.
Having fun, laughing and doing things you enjoy give you more clarity, balance and energy to take on life's other "must do" tasks. Its guilt free because you can actually do your other tasks better when you come from a stress free place of joy. So……
What can you add to your today's "TO DO LIST" to make you laugh and have fun??
I think I might sing along to my favourite 80's songs and have a little dance party with myself. I love a trip down memory lane with music.
Sending love your way, Tracy. ox