The Awakening Journey – Words of Encouragement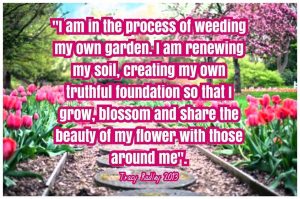 Words of Encouragement, written by me for you originally in 2013 while living in SE Asia.
For those aware of what is happening on the larger scale and internal deeper level at this time, tell yourself daily:
"I am in the process of weeding my own garden. I am renewing my soil, creating my own truthful foundation so that I grow, blossom and share the beauty of my flower with those around me"
"Through the challenges and growth of my own weeding process, may my courage and determination inspire others to put on their gardening gloves."
For those not aware, use these words for the daily challenges you face. Have faith, be strong and don't give up on your truth or your every unfolding path. Take it one aware step at a time.
Love, hugs and blessings to all.
❤ Tracy
~ Awaken Your Authentic Self ™ Live Your Soul Inspired Life ~