How I've learnt to ride the Wave. Pt. 33 You Are Always Safe!
This week I am writing to you from Cambodia, where I am doing some personal inner work, twin flame work, collective work and supporting my clients to live a more conscious and authentic life. I am feeling so blessed!
In all honesty, this is not an easy journey I have chosen by any means, even though many simply see that I am free to do as I please and travel as I like. This is far from the truth!
As I follow my inner guidance, my logic has little say in where I go, what I do and how long I am to be somewhere. In the early days it was a constant battle between my heart/higher self and my logical mind/ego. What I wanted I was not getting, as there was a bigger plan unfolding for me. I would have so much inner conflict to follow my higher path, at times it was debilitating and extremely draining on me physically, mentally and emotionally as my belief systems were being shattered and my "normal" life falling beneath my feet. The fight was to let go of control and trust in something I could not yet see.
These days I have little conflict within about following my path as it unfolds in front of me. Of course there are many things my ego/mind can challenge me over, yet in essence, I know to give up the fight in most cases, as I will follow the higher path anyway. It comes down to how much I choose to torture myself, when I know I will do what I am resisting anyway!
This is a daily practice for me to master, as my fears, subconscious limiting beliefs and patterns rise up to be cleared away. Yet as the years have gone by and I am more authentically walking my path, it has shown me, no matter what comes my way, I am always safe, everything is perfect and to embrace it all.
As I was pondering over my journey last night under a clear night sky, I was inspired by nature to write a poem outlining my perspective. I hope you enjoy it!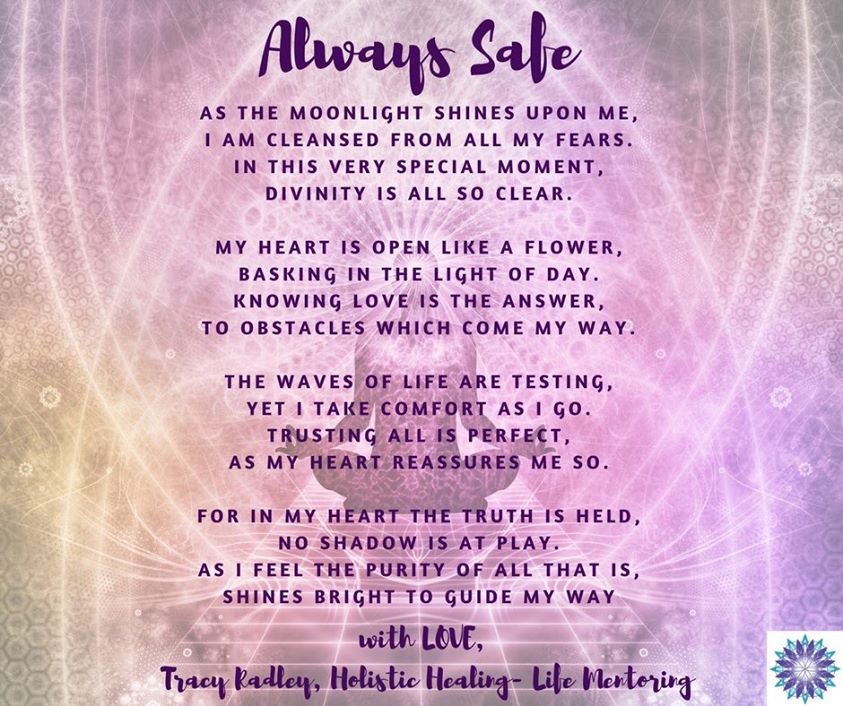 If you are feeling the INNER PUSH to CREATE CHANGE and EMBRACE YOUR LIFE with NEW AWARENESS and NEW TOOLS, you can join me in CAMBODIA during November for Individual or Small Group Intensive Mentoring/Healing personalized programs. ALLOW me to SUPPORT you to fast track your ability to TRUST, ALLOW and SHINE YOUR LIGHT! Places and dates are limited as I also know I am there for bigger picture collective shifts. So contact me for details.
As normal, I am also available for private consults online.
In the coming weeks I will expand on my personal process, share my experiences and offer tools to help raise your awareness and assist your expansion further.
If you have any comments or feedback, I would love to hear from you. So post them below.
If you are ready to take your life to the next level and discover how awesome you really are at your core, then keep checking in on my YouTube and FB page for both spiritually based and practical tools.
I am Tracy Radley, a healer by heart and a leader by trait. I offer you is honesty, integrity and passion in all my interactions with you. May my discoveries be of support and inspiration as you further awaken to your own uniqueness and power.
If you would like personal support along your path from someone who has been there, send me a private message to discuss my mentoring/coaching services.
Many blessings to you, Tracy ox
FREE STUFF: For those drawn to "Light Language Healing", check these out!
Subscribe to Transmission Tuesday – Light Language Healing Activations on my YouTube channel https://www.youtube.com/channel/UC2iY8tNHqj6z6sRexg7GaLQ . These are free short healings to help reconnect your heart and soul. Creating self-transformation from the inside out.
Subscribe to my Facebook page for Light Language Symbols Saturday. Each week I will channel and draw Light Language healing symbols for current collective energy clearing and uplifting. You can choose to view it, feel it, speak to it or meditate on it. Go with your flow! If you miss the post, it's all good. You can find them in the albums section.
PLEASE NOTE:
As I am writing about my own path and experiences, please respect this is my interpretation and yours may differ on some subjects I bring up.
Remember everyone has a right to their own opinion, we are all unique and it is not for anyone to judge.
If you do not agree with something, take it as a personal lesson and reflection for yourself on where your beliefs/values sit.
If you post a comment, please make it positive and constructive.
Lastly, as I travel I don't always have consistent internet, so please be patient and I will respond to any questions as promptly as possible and if I am late with a post, take it as a practice in patience 🙂
Copyright © 2015 – 2017. All Rights Reserved. No reproduction of content or branding permitted.